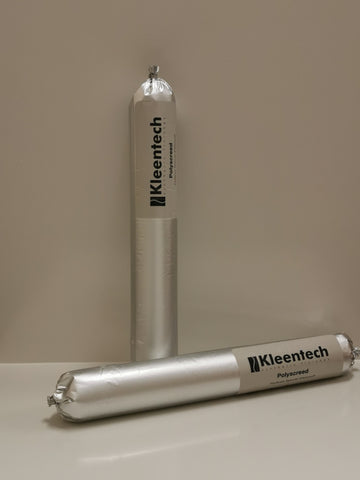 Kleentech Polyscreed Adhesive 600ml Sausage
Kleentech Polyscreed Adhesive 600 ml Foil sausages boasts high initial tack. Thanks to its 1-component system it can be used immediately. Due to the high stability in rib shape the product can be applied very well by means of a toothed spreader. The adhesive does not contain water or solvents, does not cause wood to swell, and it is compatible with materials sensitive to solvents. Kleentech Polyscreed is permanently elastic, balances tension, can be applied with a spreader; it is weather resistant, non-corrosive, does not contain any silicone, solvents or isocyanate.
**Required 600ml Barrel Sausage Gun Applicator/Gun and troweled to rear of PVC Sheet to get Total Coverage Adhesive **

Technical Information:
Basis: hybrid adhesive
Film characteristics: the cured film is elastic
Skin over time: approx. 15 min. (at +23°C/50% rel. humidity)
In-depth curing: ~ 2.5 mm after 24 h (at +23°C/50% rel.
humidity)
Density (DIN 52451): 1.422 g/cm³
Shore A (ISO 848): approx. 38
Shrinkage: -3% Consistency: low viscosity – pasty
Tear strength (ASTM D 624): ~ 6.50 N/mm
E-modulus 50: 0.34 N/mm² (DIN 53504-S2)
E-modulus 100: 0.49 N/mm² (DIN 53504-S2)
Elongation at tear (DIN 53504-S1): approx. 350 %
Processing temperature: +5°C to + 35°C
Packaging: 600ml-foil bags, cartons of 20 pcs. each;
Colour: white
Storage life: 12 months in a cool and dry place

Application
Kleentech Polyscreed serves for gluing full surfaces of a wide variety of materials including wood, concrete, plaster, metal, plastics, PVC, polyester, and polystyrene. The product is suitable for gluing enameled glass and lacobel glass.

---
We Also Recommend
---